Missions
We have been given the privilege to join Flint Baptist Church on any of their Mission trips this year.
They are as follows:
Celina, Texas - March 25, 2023 - One day blow out for to help a new church prep for Easter. Cost - $ 0.00
Celina, Texas - May 30 - June 4, 2023 - Help us prepare for summer camps, serve the city of Celina, and work with Legacy Hills Church for their upcoming backyard bible clubs. Cost = $ 400.00
Belize - May 6 - 13, 2023 - we will be constructing buildings on the Belize Bible College campus, working in a local village with children and helping people in the community. Need welders and construction people as well. College Dorms. Cost = $ 1,300.00
La Esperanza, Honduras - May 18 - 26, 2023 - Help to provide vision, medical and physical therapy support to local villages. The team will distribute water filters through the Bucket Ministry and work with our sports outreach ministry to share Jesus as Savior with all we meet! Nice accommodations. Cost = $ 1,000.00
Guatemala - April 1 - 8, 2023 - Medical mission trip. Medical, dental and water purification teams will work in the medical clinic in Sarstun. We will boat across from the Belize Bible College to stay in the medical clinic, serving each day. Dentist, Doctors, Nurses, PA's. Hiking is required to get to these locations. Primitive surroundings. Cost = $ 1,600.00
Amazon Outreach - May 24 - June 2, 2023 - Come be a part as we minister on the Amazon River to those who call themselves the "Forgotten People" but who are seen by God!! Help with medical, kids ministry, giving out supplies, and more! Cost = $3,100.00
Minnesota - August 20 - 27, 2023 - Northland Missions, Roseau Minnesota, located on the Canadian border. Join us as we partner with Northland Missions, Minnesota Missions and other pastors in the area as we encourage, work alongside and share the gospel with the northern MN and WI area. Our team helps in whatever ways the church may request; with vacation bible school, outreach, building projects and more! Area is mostly unchurched. You can drive or fly, expenses are all on individuals. Cost = $ 1,000.00
Colorado - June 9-15, 2023 - Spreading the Gospel in Norther Colorado. For three days we get to help them host an outdoor VBS spreading the gospel among local kids. We will hold the outdoor bible camp in their local park! We will play games, have a great time with kids and help minister and share the gospel. The end of the Bible adventure camp is wrapped up with a fun day full of bounce houses, hot dogs and more! If you have children between the ages of 4-12 they get to join the Bible Adventure Camp as participants! Teens ages 13 and up get to work alongside adults. We welcome all families and would love to have yours join us! Trip costs are $800 per adult double occupancy and $150 per child. Based on a family of four the total is $1,900.00 including lodging at Embassy Suites Loveland June 10-15 and a few team meals for the trip. Travel up and back is at own expense, due to the variance in travel preference per family.
If you are interested in any of these trips, please contact any member of our MCBC Missions team - Rick & Sandy Adams (Chair), Amber Pond or Ann Bennett.
You can click on the link above to take you to Flint Baptist's Missions page for more information as well.
Even if you cannot go on these trips right now, please be praying for each group that goes, whether from MCBC or Flint Baptist, that they may accomplish the work of the Lord.
Throughout the year, we collect items to pack into Operation Christmas Child Shoeboxes! If you would like to donate any of the below items, please bring to the church and drop it on the OCC table in our Welcome Center. Each October, we have a Packing Party where we all gather, as a church, to pack all these items into the shoeboxes! When you are donating, please remember to "THINK SMALL" - we want to pack as much as we can into the shoeboxes, so when picking out stuffed animals, for example, pick the smaller animal over the larger one!
January, February & March - Toboggan's; Gloves; Scarves; Stuffed Animals; Hot Pads; Non - Liquid Toiletries: Combs / Brushes, Toothbrushes, Band Aids, Small Individual Packs of Kleenex and Wet Wipes
April, May, June - Kids T-Shirts; Rain Ponchos; Water Bottles; Hair Accessories; Matchbox Cars / Trucks; Play Sunglasses; Mini Sewing Kits; Bandanas
July, August, September - Washcloths; Index Cards; Small Notepads; School Supplies: Pens, Pencils, Pencil Sharpeners, Markers, Crayons, Erasers, Scissors, Colored Pencils; Kids Stickers; Reusable Eating Utensils
After Christmas, instead of throwing away your Christmas Cards that you receive, donate those to OCC so that we can write encouraging notes for the kids who receive our boxes! You can turn those in to the OCC Table in the Welcome Center as well!
If you ever have any empty shoeboxes laying around, donate those as well! If we ever run out of the boxes that Samaritan's Purse provides, we can always use those!
If you have any questions about Operation Christmas Child at MCBC, please don't hesitate to contact our Project Leader, Amber Pond, at (903) 570-2464 and she will be able to answer all your questions.
If you would rather make a monetary donation, we are accepting those as well. Amber will take what comes in and go and purchase additional items that are needed for the boxes prior to the Packing Party! You can turn in your donation directly to Amber, in the offering plate (but please make sure to mark on the envelope that it is for "OCC"), or through Venmo***, that way it goes directly to that ministry and the Financial Secretary will let Amber know a donation has been made!
*** If you would like to donate via Venmo, the church has an account now. You can either scan the QR code below or look up MCBC @mcbc-whitehouse. Please make sure to add in the description that it is for an "OCC Donation for - Supplies, Shipping, etc." If you have any questions or would like to make sure that it went through, please contact Amber Pond.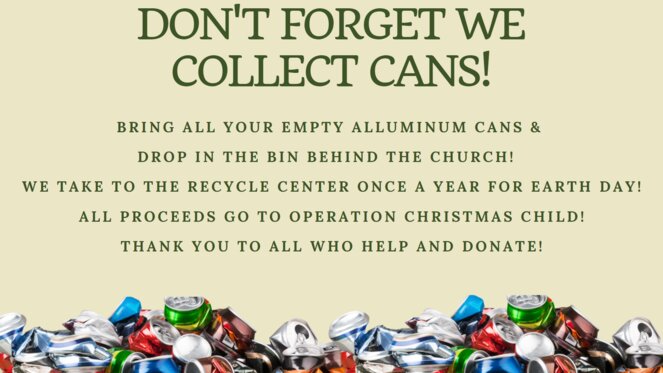 Throughout the year, we collect Aluminum Cans in a bin behind the Gym! Each year for Earth Day, we take all the cans we have collected throughout the year to the Scrap Yard in Tyler and everything that is earned from the cans will go towards Operation Christmas Child at MCBC for either supplies or shipping! So please drop off your cans, in a bag, in the bin in the back! Thank you for everyone who helps out with this!