Missions
Throughout the year, we collect items to pack into Operation Christmas Child Shoeboxes! If you would like to donate any of the below items, please bring to the church and drop it on the OCC table in our Welcome Center. Each October, we have a Packing Party where we all gather, as a church, to pack all these items into the shoeboxes! When you are donating, please remember to "THINK SMALL" - we want to pack as much as we can into the shoeboxes, so when picking out stuffed animals, for example, pick the smaller animal over the larger one!
January, February & March - Toboggan's; Gloves; Scarves; Stuffed Animals; Hot Pads; Non - Liquid Toiletries: Combs / Brushes, Toothbrushes, Band Aids, Small Individual Packs of Kleenex and Wet Wipes
April, May, June - Kids T-Shirts; Rain Ponchos; Water Bottles; Hair Accessories; Matchbox Cars / Trucks; Play Sunglasses; Mini Sewing Kits; Bandanas
July, August, September - Washcloths; Index Cards; Small Notepads; School Supplies: Pens, Pencils, Pencil Sharpeners, Markers, Crayons, Erasers, Scissors, Colored Pencils; Kids Stickers; Reusable Eating Utensils
After Christmas, instead of throwing away your Christmas Cards that you receive, donate those to OCC so that we can write encouraging notes for the kids who receive our boxes! You can turn those in to the OCC Table in the Welcome Center as well!
If you ever have any empty shoeboxes laying around, donate those as well! If we ever run out of the boxes that Samaritan's Purse provides, we can always use those!
If you have any questions about Operation Christmas Child at MCBC, please don't hesitate to contact our Project Leader, Amber Pond, at and she will be able to answer all your questions.
If you would rather make a monetary donation, we are accepting those as well. Amber will take what comes in and go and purchase additional items that are needed for the boxes prior to the Packing Party! You can turn in your donation directly to Amber, in the offering plate (but please make sure to mark on the envelope that it is for "OCC"), or through Venmo***, that way it goes directly to that ministry and the Financial Secretary will let Amber know a donation has been made!
*** If you would like to donate via Venmo, the church has an account now. You can either scan the QR code below or look up MCBC @mcbc-whitehouse. Please make sure to add in the description that it is for an "OCC Donation for - Supplies, Shipping, etc." If you have any questions or would like to make sure that it went through, please contact Amber Pond.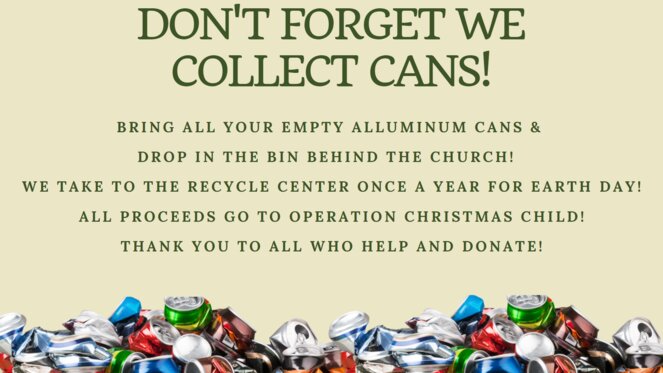 Throughout the year, we collect Aluminum Cans in a bin behind the Gym! Each year for Earth Day, we take all the cans we have collected throughout the year to the Scrap Yard in Tyler and everything that is earned from the cans will go towards Operation Christmas Child at MCBC for either supplies or shipping! So please drop off your cans, in a bag, in the bin in the back! Thank you for everyone who helps out with this!