Missions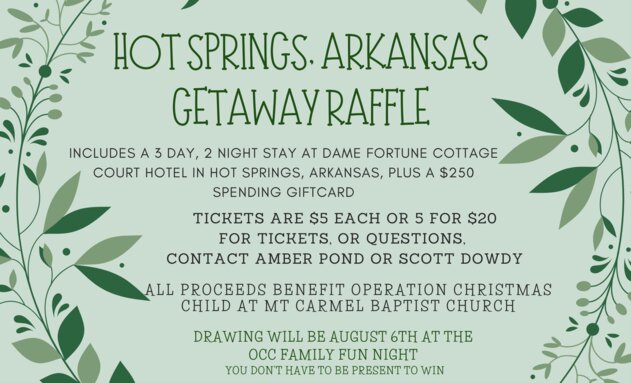 The OCC Ministry at MCBC is having a raffle for a 3 day / 2 night stay at the vintage hotel, Dame Fortune's Cottage Court, in Hot Springs, Arkansas, along with a $250 gift card (that you can use anywhere)!
Tickets are $5 each or 5 for $20! All proceeds go to benefit the OCC Ministry and purchasing items to pack in our shoeboxes in October! Find Amber Pond for tickets. Drawing will be on August 6th after the Family Fun Night meal and before the Movie starts! You do not have to be present to win!
Questions, contact Amber Pond.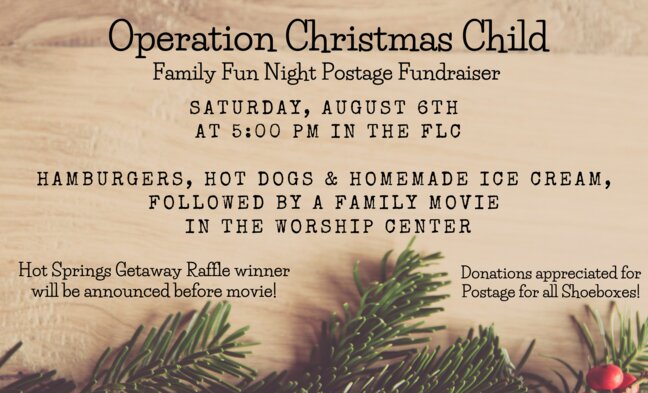 You do not want to miss out on this fun Family Fun Night on Saturday, August 6th at 5 pm!
The OCC Ministry of MCBC will be providing Hamburgers, Hot Dogs, all the fixings, homemade ice cream and cookies in the FLC, followed by a movie in the Worship Center for the adults, and the kiddos get to hang out with our youth group!
Donations are greatly appreciated, as this is our annual postage fundraiser to help ship all the shoeboxes that we pack in October. Each box only costs $10 to ship all over the world! Our goal is 450 boxes this year!
After the meal, we will be drawing for the Hot Springs, Arkansas getaway and gift card, so make sure you find Amber Pond to get your tickets!
Questions, contact Amber Pond!
Our 42 players have spoken, so we are having a 42 tournament!
Saturday, October 15th in the MCBC FLC, the OCC Ministry will be hosting a tournament for all players!
It will be $25 per team and trophies will be awarded to the winners!
Registration begins at 9:30 am, where you can pay by either cash, check or Venmo!
Tournament will start after all teams are registered!
We will provide snacks, drinks and lunch for all players!
Invite your friends and family - everyone is invited to come and play!
Questions, contact Scott Dowdy, the moderator for the tournament!
**This will be a Straight 42 only tournament**